This is part of a series of monthly updates I write for friends, family, and anyone else that's interested in following along. The previous installment, from January 1st, was Hello, World!
January was a big month! I built out a first version of the app, got feedback from several engineering managers in my network, added some more features that they requested, including Slack and Jira integrations, and I think I'm super close to my first team signing up.
The Numbers
I'm going to track some core numbers each month, but since this is the first month I'm doing it, most of them are starting from zero (or close). Hopefully next month they'll be moving in the right direction.
Bottom Line
There are 0 teams using Teaminal.
I have $0 in MRR.
Sales/Marketing
I got 22 unique visitors and 75 pageviews on www.teaminal.com.
I posted to Twitter 63 times and LinkedIn 0 times.
I published 1 blog post and 0 landing pages.
I sent 1 Slack message, 0 emails, 0 Twitter DMs, and 0 LinkedIn messages about Teaminal.
I had 5 demo calls, though these were more for feedback than sales.
Development
I made 216 commits to the app repo.
I made 56 commits to the marketing site repo.
Marketing Progress
Marketing-wise, January was all about laying down a foundation.
That started with literally choosing a name and domain for the app. I threw every suffix in the english language into a spreadsheet with "work" and "team," then fed the output of that into a bulk domain search. Then after much internal debate, ended up going with Teaminal.
Here's my naming spreadsheet of doom: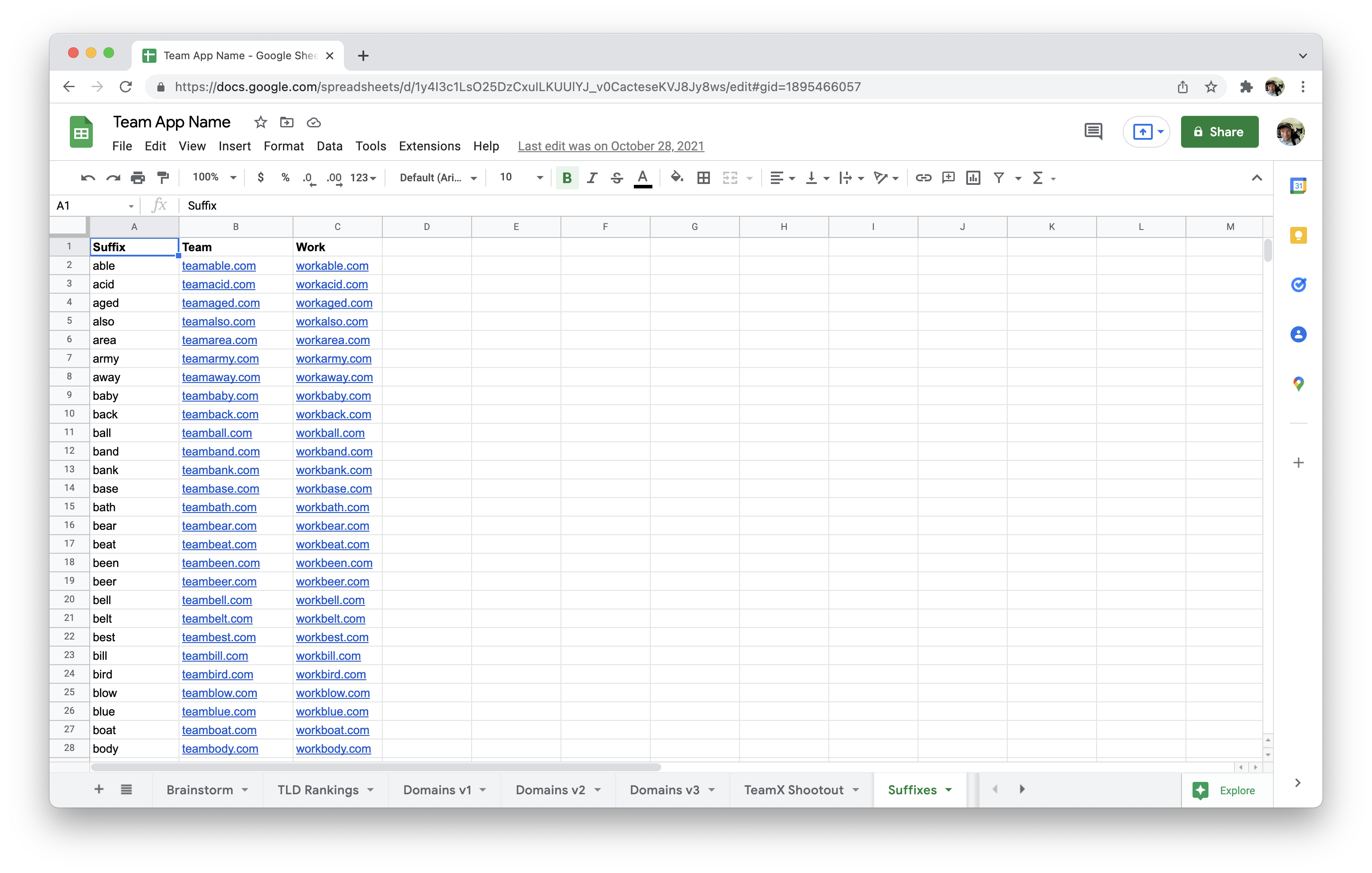 I also designed a logo I'm super proud of: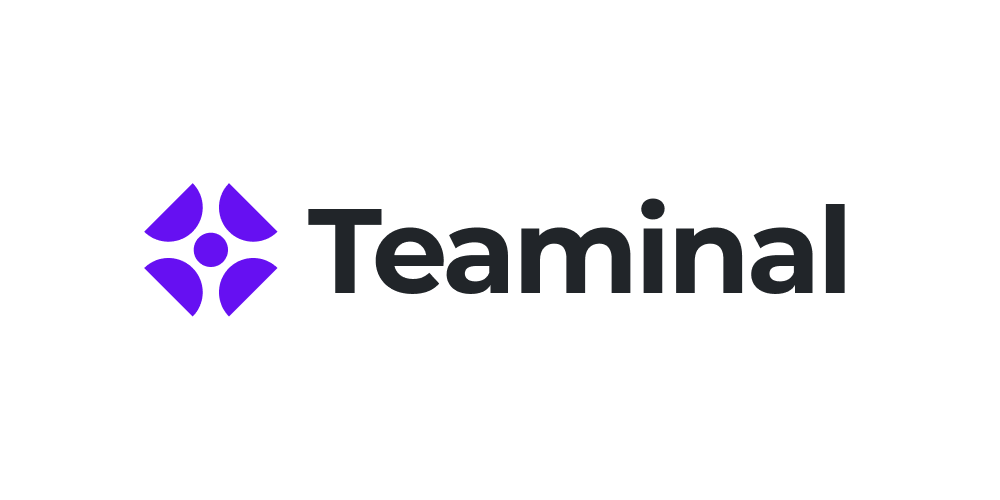 But it took a few rounds to get there: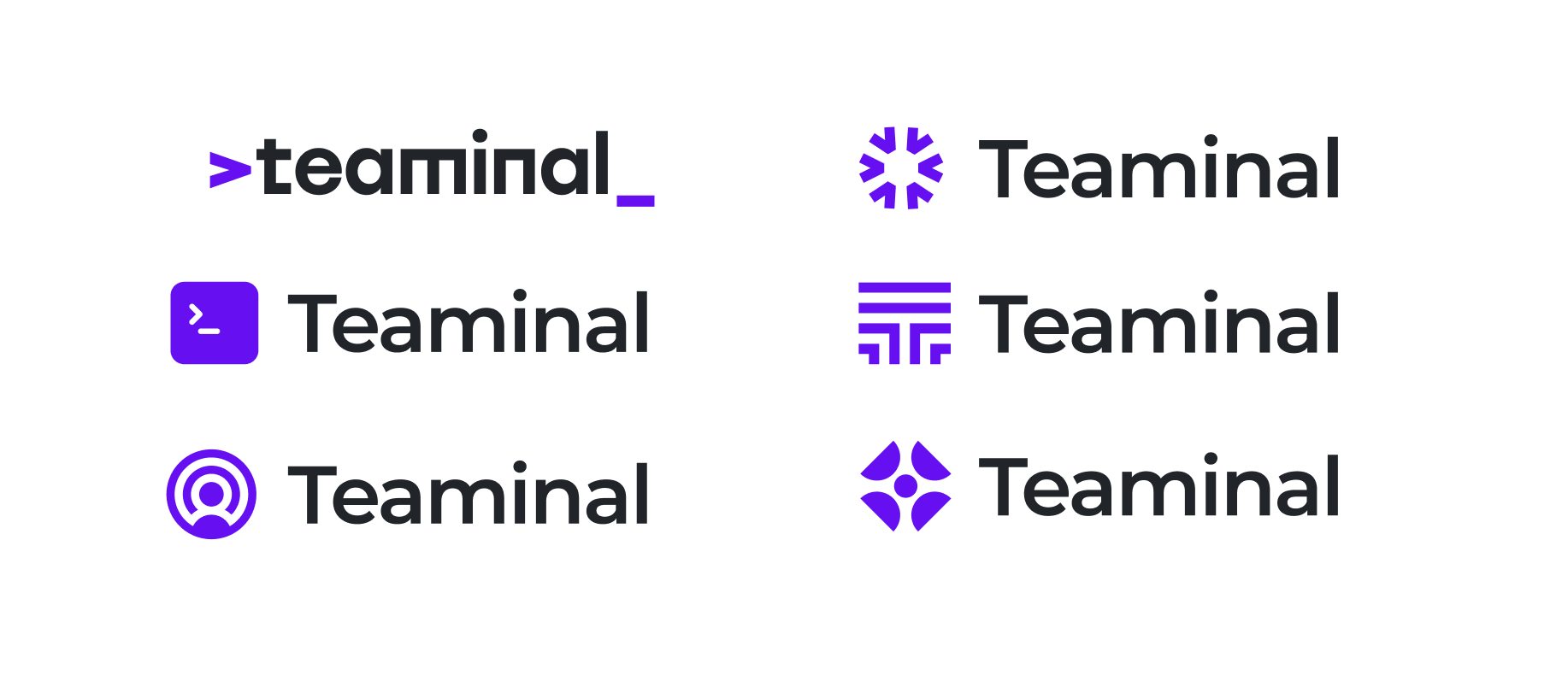 I built a marketing site, which you're reading this on: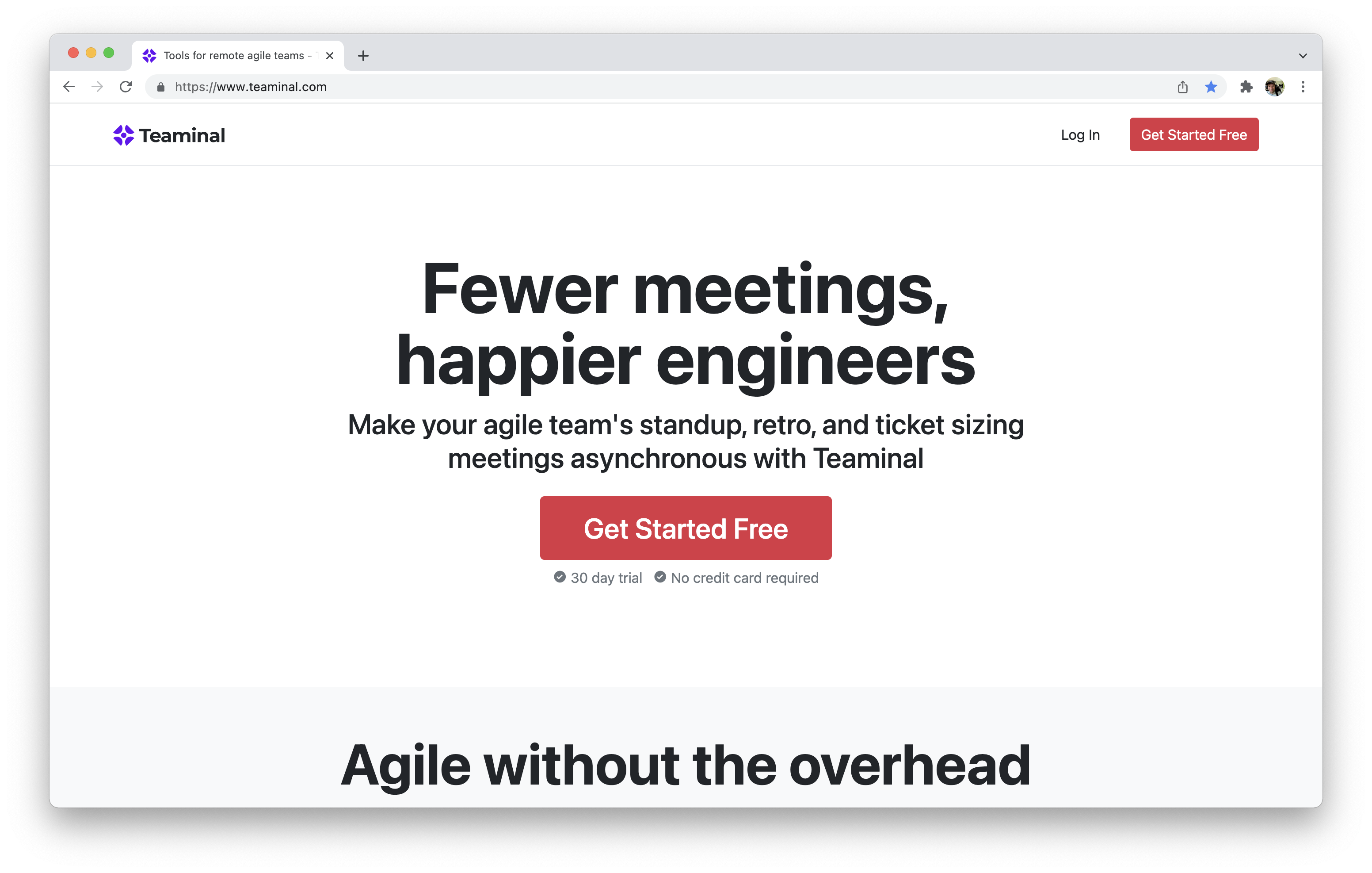 I'm honestly kind of embarrassed by the marketing site, both because writing copy is hard and because I'm a much more experienced app designer than landing page designer, but in the spirit of putting stuff out there, I'm going with it!
Most importantly for sales and marketing this month, I talked to people! I did 5 demo calls, all with engineering leaders in my network, and got both critical feedback on the app and one soft commit to be a beta tester.
Product Progress
I built a product that I think is well on its way to solving real problems. In my early demos, the pointing feature in particular seemed to get folks the most excited, but I think that standups could also be adopted by a lot of teams as-is. Retros seemed to be the furthest from what folks were looking for, but I'm going to work on that in February.
I'm especially proud of the fact that I was able to ship Jira and Slack integrations in addition to the basic app functionality, team and user management, etc.
The app is currently hosted on Render, using Postmark for transactional emails, and Google Analytics for analytics. I want to integrate something like FullStory or LogRocket this month so I can watch beta testers use the app, but that's pretty far down the priority list, so we'll see.
Here's a quick screenshot of the main timeline: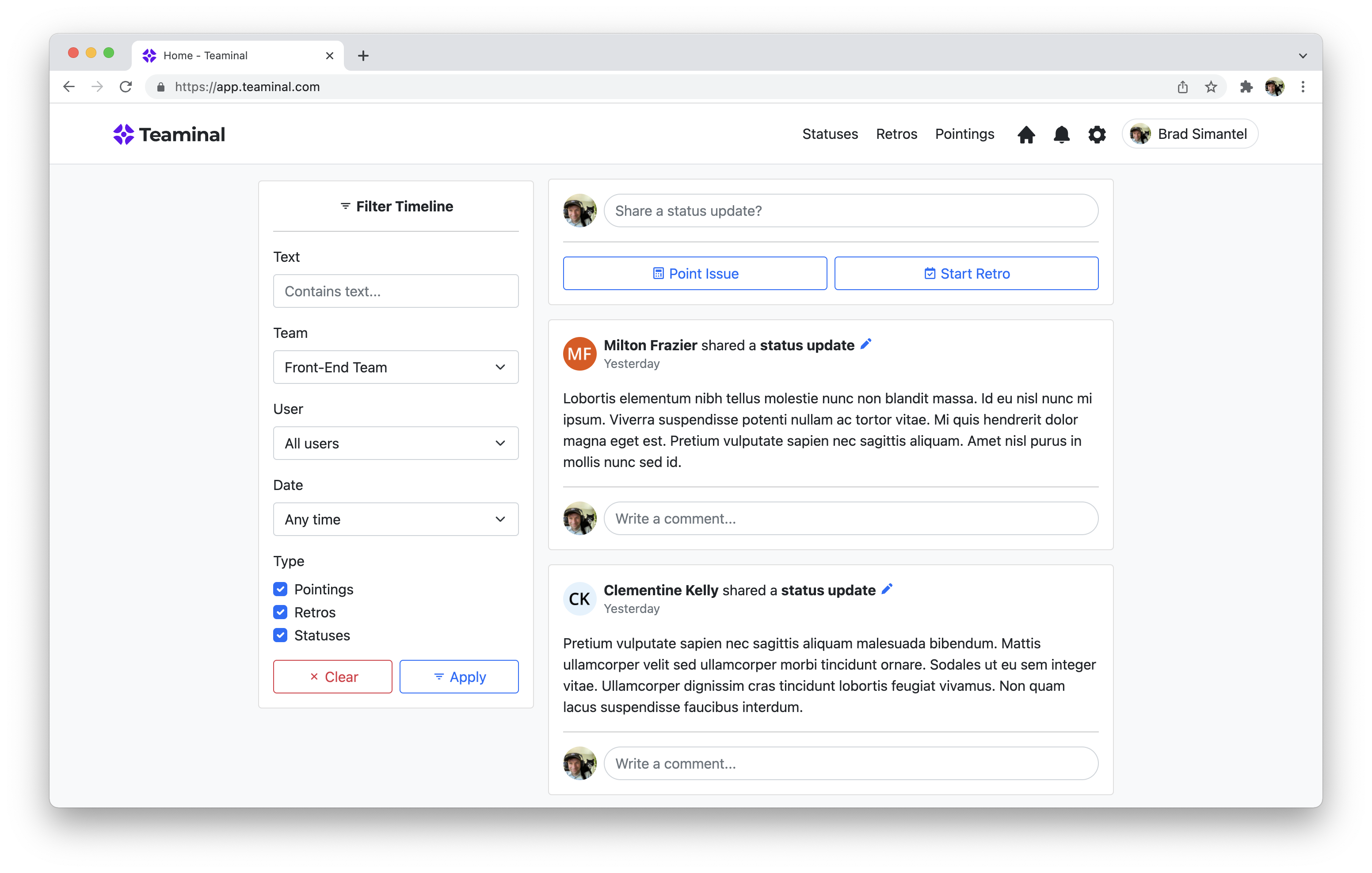 I'm planning to record a demo video soon, so I'm not going to bother screenshotting everything else right now.
February Goals
My goal for February is to get my first users. To that end, I'm going to slow down development on new features and focus on sales and marketing.
Bottom Line
At least 1 team using Teaminal.
$0 in MRR (I'm looking for beta users, and don't expect to charge anyone for another month).
Sales/Marketing
Put Teaminal on every list I can find - I want to build some links. So Product Hunt, Betalist, Show HN, Crunchbase, etc. I don't have enough of a following that I'll ever have a massive Product Hunt launch or something, so I should just do it now.
Share Teaminal in every Slack and Discord that I'm in.
Send at least 30 outbound messages (emails, DMs, LinkedIn messages).
Do at least 10 demo calls. I want feedback, but I also to ask people to try it while I have them on the hook a little bit.
Write 4 blog posts. I want to start building a catalog of content for SEO purposes.
Post those blog posts on LinkedIn, Twitter, HN, Reddit, relevant Slacks and Discords.
Development
I know I said I was going to slow down development, but there are a few features I think I need to add to land beta users:
SAML SSO, since everyone I've spoken to so far said it'd be a hard requirement to officially use Teaminal.
The Jira integration for pointings works and pushes story points back to Jira, but I got a request that I integrate with their webhooks to create pointings when new tickets are created, so I'd like to ship that.
Rework retros a bit. I've been kicking around reacjis, upvotes, grouping comments, replies to comments, etc. In general I think this feature is the furthest from real-world use and competing products.
Update: The February 2022 Update is the next post in this series.